At the core of our business lies our food selection, offering only the highest quality brands and ingredients. Whether you're looking for a new brand of kibble or a special diet, our experienced staff will help you find the perfect food for your pet. We also offer a range of accessories, from leashes and collars to toys and grooming supplies. Our goal is to make sure that your pet has everything they need to live a comfortable and happy life.
Services
Welcome to our website! We offer a comprehensive range of pet services that cater to all your furry friend's needs.
Our team of experienced and passionate pet professionals is dedicated to providing the best care possible for your pets. We understand that every pet is unique and has its own specific needs.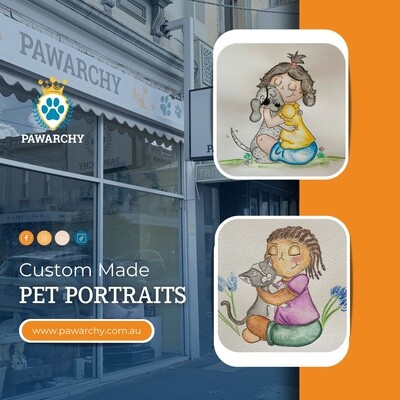 Custom made portraits
Unique custom made drawings, portraying your family and furry friends
Custom Collar and Leash Isi&Friends
Custom Collar and Leash Isi&Friends
Unique collars, leashes and accessories for your dog, entirely made in Italy by our craftsmen with Italian raw materials
If you're a dog owner who is looking for a pet shop that provides exceptional services, then look no further than Pawarchy! This place is a true gem, and I cannot recommend it enough. Firstly, the owner has incredible experience and knowledge. The herbal treatments they offer for dogs are top-notch and the staff can advice on the herbs that are beneficial for your specific dog and provide you with advice on which ones to use for a specific need or health issue. The owner is also an expert in raw food diet, and she can offer heaps of advice on this subject. She made me a costume fit diet chart with specific recipes to tackle my Groodle's arthritis and I can't wait to start! They also offer a variety of high-quality dog treats and brands that you can trust. The fantastic accessories that they offer are also worth mentioning. From toys to beds, they have everything you need to spoil your furry friend. The products are not only cute and stylish but also durable and of excellent quality! Not to mention that the owner is also an artist and can make on commission the cutest illustrations! Overall, this pet shop is a fantastic place for dog owners with everything you need to keep your dog healthy, happy, and stylish. I highly recommend it!

lulu marazzi


March 31, 2023

Owner is very knowledgeable on pet diet and helped switch my cats to a raw food brand with less bone which definitely seems better for them. Amazing service!

Margherita Vittorelli


March 31, 2023

Beautiful products and best service and advice! My dog was treated like a princess - recommended!!

Marco Cimino


March 31, 2023

An amazing place and service. Cannot recommend enough

Open Hearts Can Unite


March 31, 2023

Nice and well stocked shop, i recommend it!

Manuela Manzotti


April 5, 2023

Rudi Carr


March 31, 2023
Contact us for any Enquiry about our products